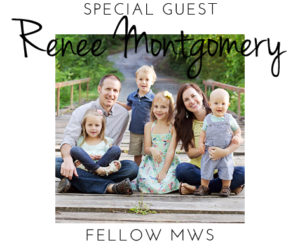 One of my favorite outfits I own is one that most people will likely never see me wear.  It's not a fancy dress or a sentimental college sweatshirt or even a comfy pair of pajamas (there's actually a high probability you will see me sporting that at the grocery store early in the morning after school drop off! Ha!)  No, one of my favorite outfits is stored away in a plastic bag at the top of my closet – it's my painting outfit.  An over-sized white men's t-shirt and a pair of black yoga pants that are scattered in most every color of pastel imaginable – pale pinks, light blues, and sunny yellows.  Apparently I would live inside a cotton candy world if I could.
It's not that the clothing itself is so wonderful, but rather what I get to do in the clothing, which is paint.  Usually it's just the walls of a room or if I'm feeling particularly daring, maybe a piece of furniture.  I'm not so great at painting; it's just that I LOVE the effects of it.  With about $35 worth of supplies, a half of day's worth of work, and a booming Pandora station in the background, you can transform most any space into something completely different.  Dark, outdated wood paneling in the office? Poof! It's now a light and bright library with great textured walls.  A boring, beige, run-of-the-mill bedroom? Poof! It's now an airy princess pink retreat all ready for your baby daughter to play and rest in throughout her little years.  There is just something so empowering about the ability to completely change your living space with the simple stroke of a paintbrush.  And I would argue that it's not just me that enjoys the excitement of dramatic transformations.  Turn on most any HGTV show and we all know that's it's the last 5 minutes where the magic is – that thrilling "before and after" shot that leaves the homeowners stunned.  Or pick up any celebrity type magazine around the month of January and you'll be inundated with "1/2 Their Size" articles that showcase powerful weight loss stories complete with side-by-side pictures of the people's heaviest and lowest weights.  It's also not just in realms of the external – there are countless programs ready for purchase that can teach your child to read in just 20 easy lessons or a 6-week Bible study that deals with controlling your anger.
Now there is absolutely nothing inherently wrong with any of these things- painting, exercising, education courses, Bible studies- they can all be good and worthy pursuits.  However, I have found that for myself I often put my soul, my spirit, under these same sorts of expectations, these same sorts of high standards, which seem to beg for a huge, outward marked difference.
For example, if I'm struggling with impatience (which as a mom of 4 kids, I never, ever do. Rigggghhhtt . . . ), I will find some Bible verses that cover impatience and I'll write them down and study them.  I'll pray over my struggle with impatience and give it to God again and again.  I'll sometimes even hunt down a few devotions over the topic of impatience and see how other believers have dealt with it.  And while I do believe these practices are good and worth my time, here is where God has shown me that I tend to get off track – I will then sit back and somehow unconsciously wait and expect for the miraculous "after" moment to appear where impatience is no longer an issue in my life and I can move on to the next project of my heart.  As if the human soul wasn't designed in the complex way our Father made it? And of course when a quick and dramatic change doesn't occur, I can feel my spirit get downtrodden and unnecessarily condemned.
I don't know if it's just me and the way I'm wired or if it's our microwave culture of change or if it's the American mentality of putting so much worth on progress and the finished product, but I just don't believe it's the way God always works.  My pastor has a saying that I have clung to this past year, which says, "Soul work is slow work." Say that again carefully and let it sink in . . . "Soul work is slow work".   Hmmm . . . while that that doesn't exactly fit into my mindset of "grab a paintbrush and make a huge change in an afternoon", it sure does set my heart at ease, breathing into my being that beautiful truth from Jesus – "my yoke is easy and my burden is light" (Matthew 11:30).
So if you too are one who struggles with expecting your soul to exist within a "before and after" standard, let me share a few lessons God has been teaching me ever so slowly and gently.
My soul already exists in the "after". A Bible teacher once pointed this verse out to me and it has really shifted my thinking: "But because of his great love for us, God, who is rich in mercy, made us alive with Christ even when we were dead in transgressions- it is by grace we have been saved.  And God raised us up with Christ and seated us with him in the heavenly realms in Christ Jesus . . ." (Ephesians 2: 4-6).  Did you catch that? It's not that we will be seated with Christ one day, but rather we already are there! Past tense!  Though we are still physically here on earth, dealing with the realities of daily life, our spirit is secure with Christ, communing with him in the heavenly realms. I honestly don't know exactly how that all works, but I do believe the spiritual world is more real and powerful and alive than anything we can see with our own two eyes, so I will rest and trust that even though we're in the middle of the game, so to speak, the game is already over and won and we are victorious in Christ.  "In this world you will have trouble.  But take heart!  I have overcome the world" (John 16:33).  Amen and amen! And if you need any further encouragement on the "after" of your soul, read and re-read Revelation 21 -22 and get excited for the New Jerusalem where we will reside for all eternity.
While God does convict us on areas in our life he wants to transform, he does not condemn us with guilt. "Therefore, there is now no condemnation for those who are in Christ Jesus, because through Christ Jesus the law of the Spirit of life set me free from the law of sin and death" (Romans 8:1-2).  So abide in his spirit and go where he leads you, repenting and allowing him to change you, but don't listen to lies of the devil that cloud your heart with heavy shame and guilt – you are already forgiven and a beloved daughter of our Father!
While God is constantly molding us to be more like Christ, we should not just focus on those changes and ourselves, but instead focus on the One who does the changing. A favorite quote of mine from Corrie Ten Boom says, "If you look within you'll be depressed.  But if you look at Christ, you'll be at rest."  It's not about me; it's all about him! "He must become greater; I must become less" (John 3:30).
If you find yourself going around and around with the same struggles, don't allow discouragement to take hold in your heart, but instead cling to the promises of Christ. "He who began a good work in you will carry it on to completion until the day of Christ Jesus" (Philippians 1:6).  God is faithful to his work in your life! It might not be at the zippy speed we desire, but God is never late and always on time – his perfect time!
Sometimes when I find myself facing a repeated issue again and I start thinking, "Oh here we go again . . . I thought I was past this!", God reminds me of the thorn in Paul's side, "Three times I pleaded with the Lord to take it away from me. But he said to me, 'My grace is sufficient for you, for my power is made perfect in weakness.' Therefore I will boast all the more gladly about my weaknesses, so that Christ's power may rest on me" (2 Corinthians 12: 8-9).  There is such a deep intimacy I have with Christ when I am completely helpless and fully dependent on him, one that I wouldn't trade for all the "after" moments in the world.  I might be in the mucky middle, the process that can be so frustrating at times, but I am not alone.  He is with me and his presence changes it all!
Lastly, I am a big supporter of journaling about God's presence and work in my life. One of the things I like to record are the battles I'm having and the convictions he's leading me towards. And while I don't always see or feel the changes in my soul on a day-to-day basis, I can often look back weeks, months, and years, and see that yes! – he IS molding this stubborn heart of mine!  Sure God sometimes makes an immediate and dramatic change in people's lives (think Saul to Paul), but most of the time it's a slower, longer process: "And we all, with unveiled face, beholding the glory of the Lord, are being transformed into the same image from one degree of glory to another" (2 Corinthians 3:18).  We might not always see it clearly, but our Father is at work sanctifying us, degree by degree!
So sweet sisters, in this New Year, where we are given what the world calls a "fresh slate" (though we live minute by minute in a fresh slate through Christ!), where resolutions abound and expectations for change are high, I pray that you rely on God to do the changing in your spirit, that you don't just chase towards the "after" picture in your life, but chase after Christ and relationship with him, and I pray you rest and find indescribable joy in your secure, eternal, and present position in the "heavenly realms" next to our Lord Jesus Christ!
A great Worship Song "Shepard" by Amanda Cook – listen and be blessed!